Thursday, November 2, & Friday, November 3, 2017
Fernand Braudel famously argued that the Mediterranean constitutes a single, coherent historical unity. But how did people who lived and traveled across the Mediterranean communicate with one another? Did the sixteenth-century Mediterranean witness the creation of one or more linguistic koinés that traversed religious and political divides? Or were languages instruments of boundary creation? 
These questions have particular poignancy in the face of the forced conversion to Christianity of Jews and Muslims in Iberia. For decades now, scholars have debated what criteria we ought to use to reconstruct the "identity" of these converts –whether their inner religious beliefs (which are difficult to ascertain) or their institutional affiliations (which were imposed from above and thus not necessarily the expression of voluntary choices). Historians thus far have paid less attention to the ways in which small differences in linguistic inflections can open a window into lived realities that otherwise escape our analytical categories.
No less controversial is the role that translation has played in the making of early modern imperial projects within and beyond the Mediterranean.
This workshop brings together an international group of renowned historians and linguists who will present and discuss fresh lines of research concerning these and related debates.
Everyone is welcome but please register in advance.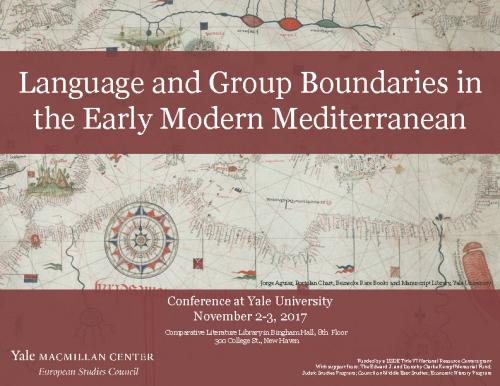 Venue Location
Comparative Literature Library
Bingham Hall, 8th  Floor
300 College St., New Haven
Our Thanks To The Following Sponsors
European Studies Council at the MacMillan Center; Council on Middle East Studies; USDE Title VI National Resource Centers grant; The Edward J. and Dorothy Clarke Kempf Memorial Fund; Judaic Studies Program; and the Economic History Program